Fluren 39 Desinfection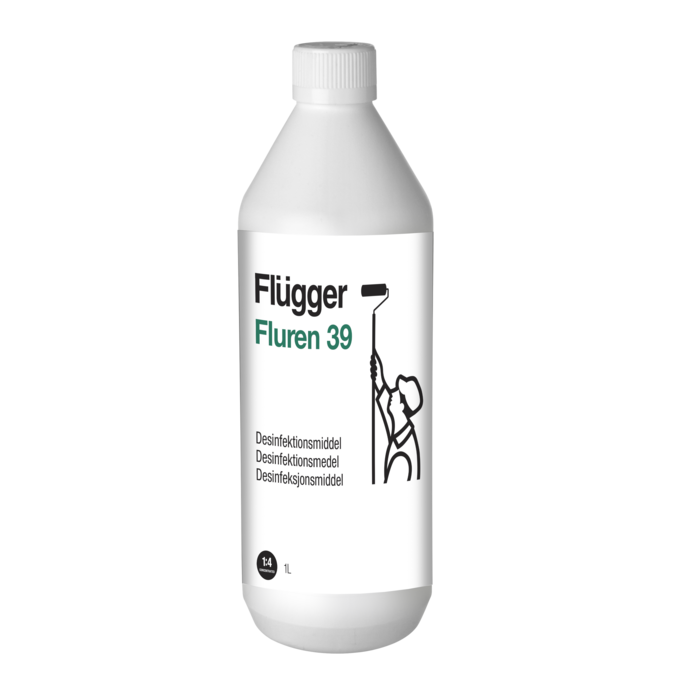 Product Description
Concentrated disinfectant for indoor use. Removes minor instances of mould and bacteria from moist rooms, bathrooms, refrigerators and freezers etc. Removes bad odours from clothes. Does not bleach.
Removes mould and bacteria
Removes bad smell
Reduce static electricity
Usage
In basements and other moist rooms.
In the kitchen for the fridge, freezer, kitchen appliances and kitchen surfaces.
In the bathroom for the washbasin, toilet, bath and shower.
For soaking shower curtains.
For soaking smelly clothes and shoes.
For cleaning in connection with pets. Dog baskets, cat trays, bird cages and food bowls.

Treatment
Clean the surface with water and detergent.
Dilute Fluren 39 with water in the ratio 1 part to 4 parts water, and apply
the solution with a cloth, sponge or brush. Leave at 5 minutes. Wipe the
surface clean with a damp cloth.
Clothing and shoes must be left to soak for approx. 30 minutes. Rinse with
clean water. Then wash the clothes as normal.

Good to know
When soaking clothes and on surfaces which are in direct contact with food, always rinse thoroughly with clean water.
Fluren 39 does not bleach colourfast fabrics.
If in doubt the colourfastness of a garment, test on a small area which is not visible.


Storage: Cool, frost-free and tightly closed
Technical Data
Cleaning of Tools etc.
Water
Current TDS Version
júní 2020